Maximize Space in Your Small Office with These 10 Tips
Not only is an untidy, cramped office an eyesore, it can also make getting work done more difficult; finding an important file or document under piles of paperwork is sure to slow you down.
Whether you have clients in the office every day, occasionally, or never, here's a good rule: If you are or would be embarrassed to have customers in your office because it's cramped and untidy, it's time for an overhaul.
If your home office looks like this: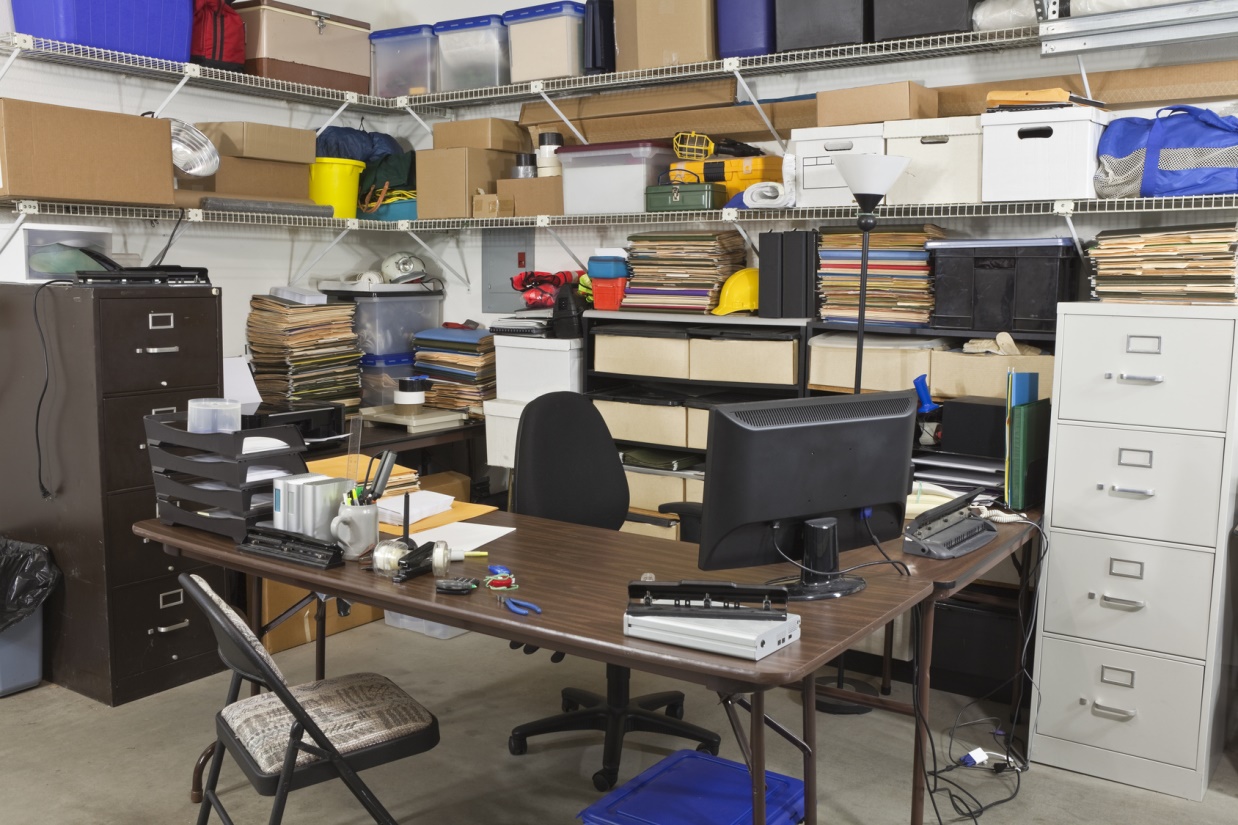 Or you're drowning under mountains of paperwork, like this …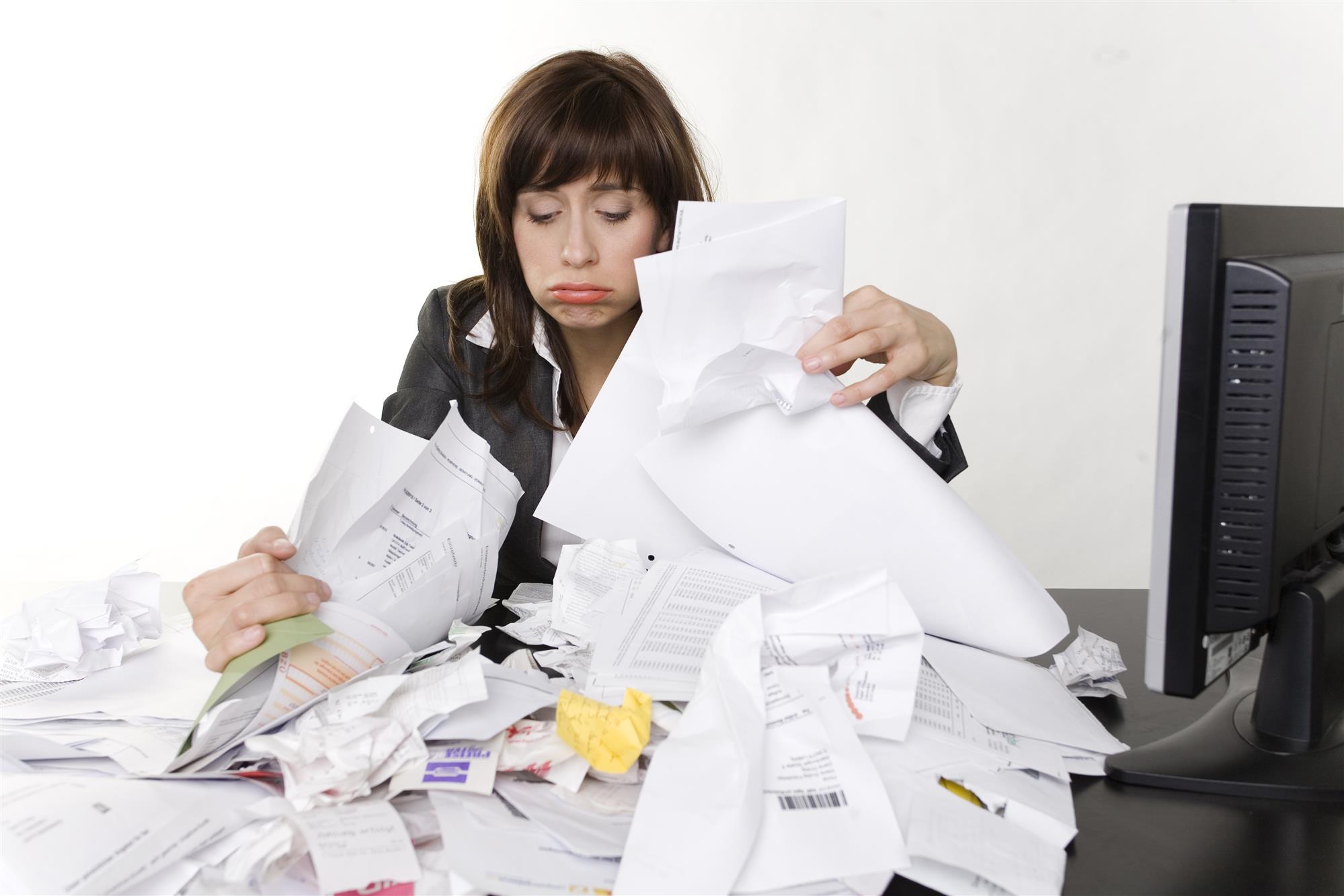 … fear not. We're here to help. We've compiled a top-ten list of ways to maximize office space on a budget. Let's get to it.
#10: Purge Things You Don't Need
Go through your office space room by room and identify clutter and items you don't need or use. Shred, file, or scan piles of paperwork, sell or donate staplers, tape dispensers, and wastebaskets that never get used, and clean or get rid of fake plants and knick-knacks that are collecting dust and making your office look tacky.
We often hold onto things at home and at work thinking "It might come in handy someday." If you haven't used it in months, you don't foresee using it in the very near future, or if it serves no real purpose, get rid of it. A cluttered office is bound to be a less efficient one.
#9: Make Use of Vertical Space
Storage shelves are a must in small offices. They make use of vertical space and help you keep items like files, charts, and office supplies neat, tidy, and organized. This tall metal shelving unit is compact and sits flush with the wall, yet it holds a surprising number of items; the included shelf supports and reinforcements help you ensure the unit is secure and earthquake-safe. Rather than taking up precious floor space, capitalize on vertical space.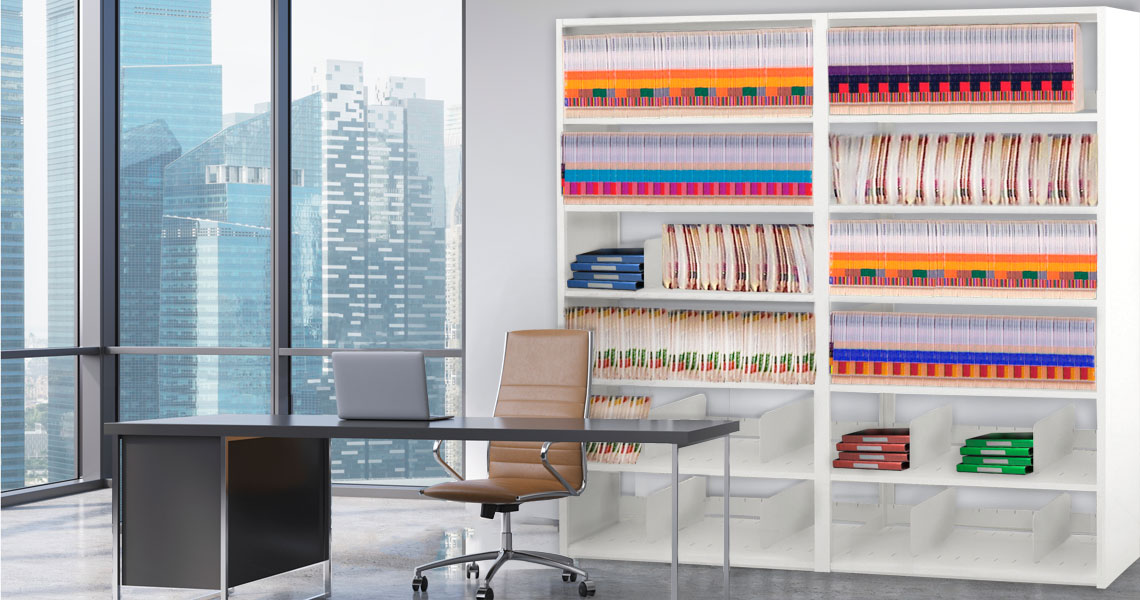 #8: Create Compact Work Stations


Ever notice how an empty surface attracts clutter like a magnet? Most office desks are too large, providing more surface area than we need, and taking up more floor space than is necessary. If you're in a tight office space, every square inch counts. Replace bulky desks with compact ones that have built in storage space, like this one or this one. The benefits are twofold: You'll create more space in your office, and you'll be forced to adopt a more minimalist attitude. If there's no space for extra stuff, you'll think twice about keeping it.
#7: Create Office Zones
Creating separate areas for both individual work and group collaboration provides your employees with the quiet, private space they need, as well as group areas where they can come together and brainstorm. In group zones, consider installing longer tables and/or couches where employees can easily exchange information and ideas.
Individual work spaces should be private or semi-private areas where employees whose jobs require it can concentrate on projects and make phone calls without excessive background noise. If you install a cubicle system, workspaces can be compact and still provide privacy and quiet, but make sure to install noise/privacy barriers in between stations.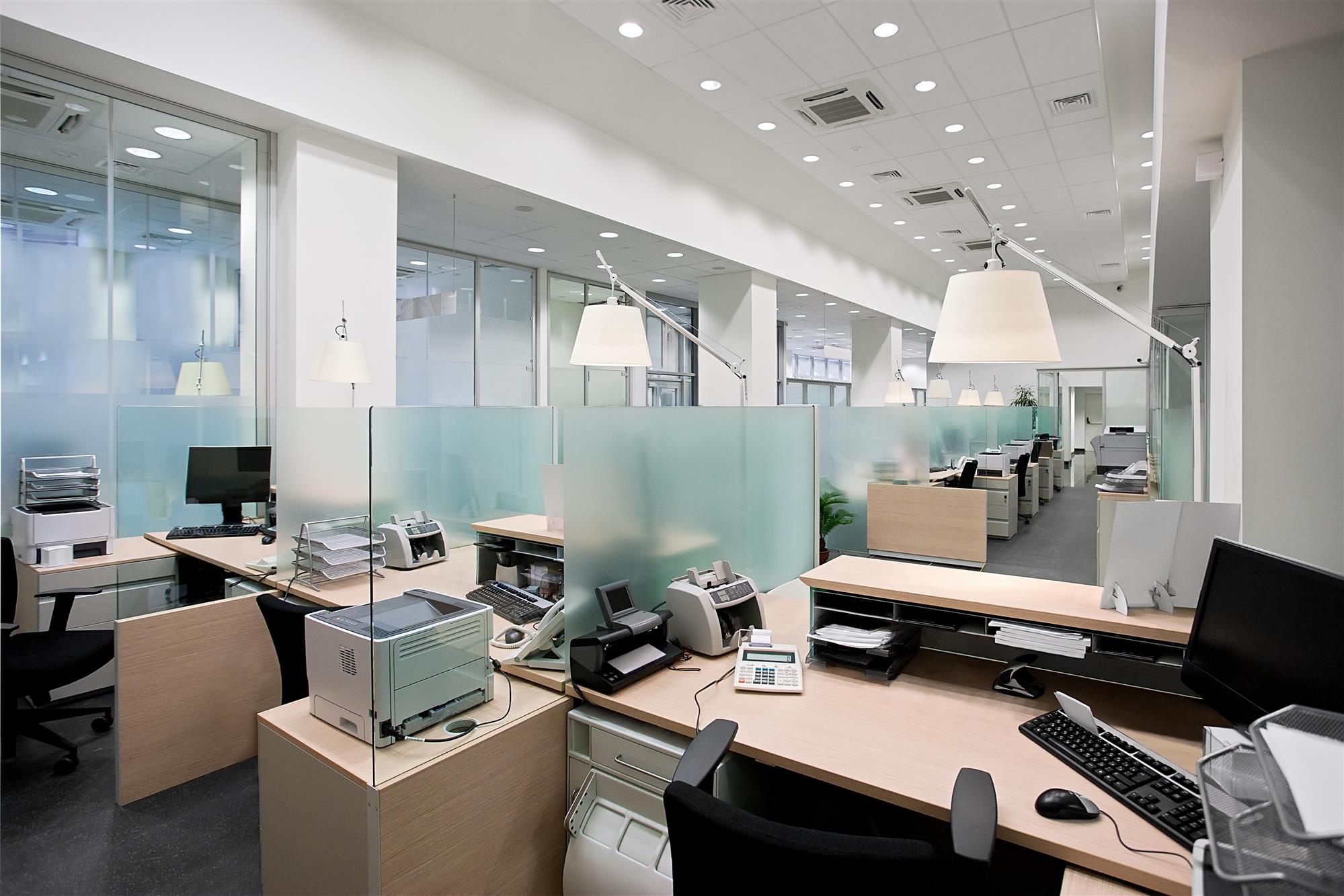 #6: Find the Best Space Plan
Space Planning is really key. Determining what kind of furniture to buy goes hand-in-hand with mapping out how to configure the furniture in a space. Compact moveable desks, for example, enable you to reconfigure a space as needed—when two people need to come together on a project, for example. Moveable furniture is a great option for businesses where employee collaboration is common.
For offices where a stationary configuration works well, do the following: Measure the floor dimensions of the room and sketch them out (use pencil!) on a piece of paper. Be sure to include windows, doors, electrical outlets, permanent light fixtures, and other built-in features in your sketch; if doors open into a room, be sure to account for that space as well. Measure the dimensions of all new and existing furniture, and see how it fits (at least on paper) into the room. A three-foot walkway in high-traffic areas meets Americans with Disabilities (ADA) federal guidelines for accessibility.
Going through this process will help you know how much furniture your space can reasonably handle without creating an unpleasant work environment, or violating building and fire codes which vary by state
#5: Embrace Technology
Compact laptops and tablets take up much less space than a flat screen + monitor + keyboard + mouse + client server or desktop PC setup. The bonus: Laptops and tablets are highly mobile. Use the cloud to store, share, and manage documents. Invest in a quality scanner and archive older documents anything you need or are required to store for a certain period that's taking up loads of office space. Let's put it this way: If you've got a space problem, there's likely a technological fix for it.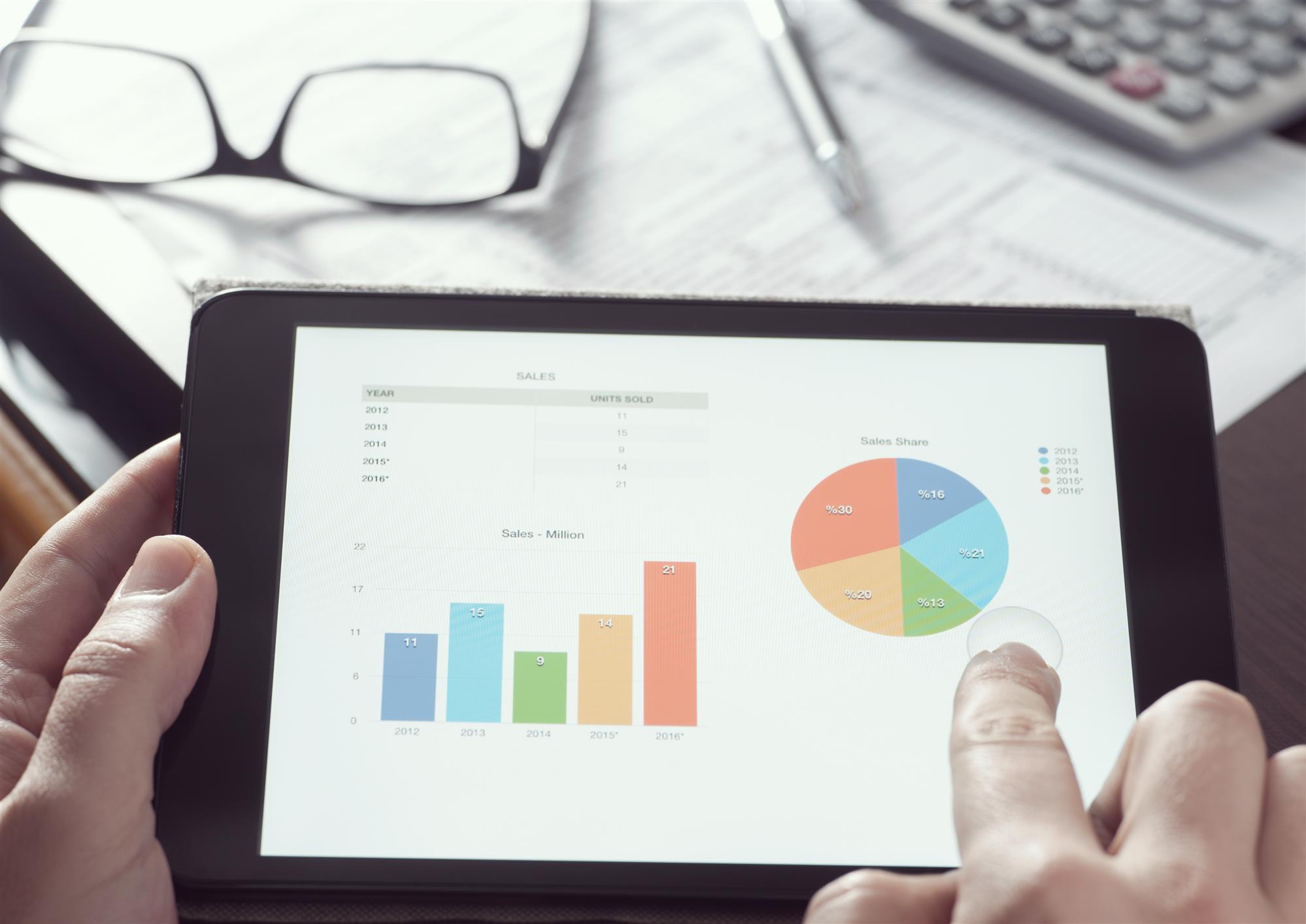 #4: Go Wireless
Speaking of technology, wireless devices are a godsend. If you've ever tried to untangle a gnarled mess of wires under your desk (haven't we all?) and then accidentally unplugged the wrong piece of equipment, causing a data loss, you'll probably agree that wired devices belong in the dustbin of history. Minimize tangles (and trip hazards) by investing in wireless devices like computer mice and keyboards wherever possible. Your employees will thank you for it.
#3: Have Stand-Up Meetings
You might be surprised at how many employees welcome the idea of a stand-up meeting, especially those who work behind a desk all day. Stand-up meetings take away some of the formality of more structured "roundtable meetings," which may inspire your employees to get creative and think outside the box. A collapsible standing table (make sure it accommodates people of different heights) can be pulled out when you need it and tucked away when you don't.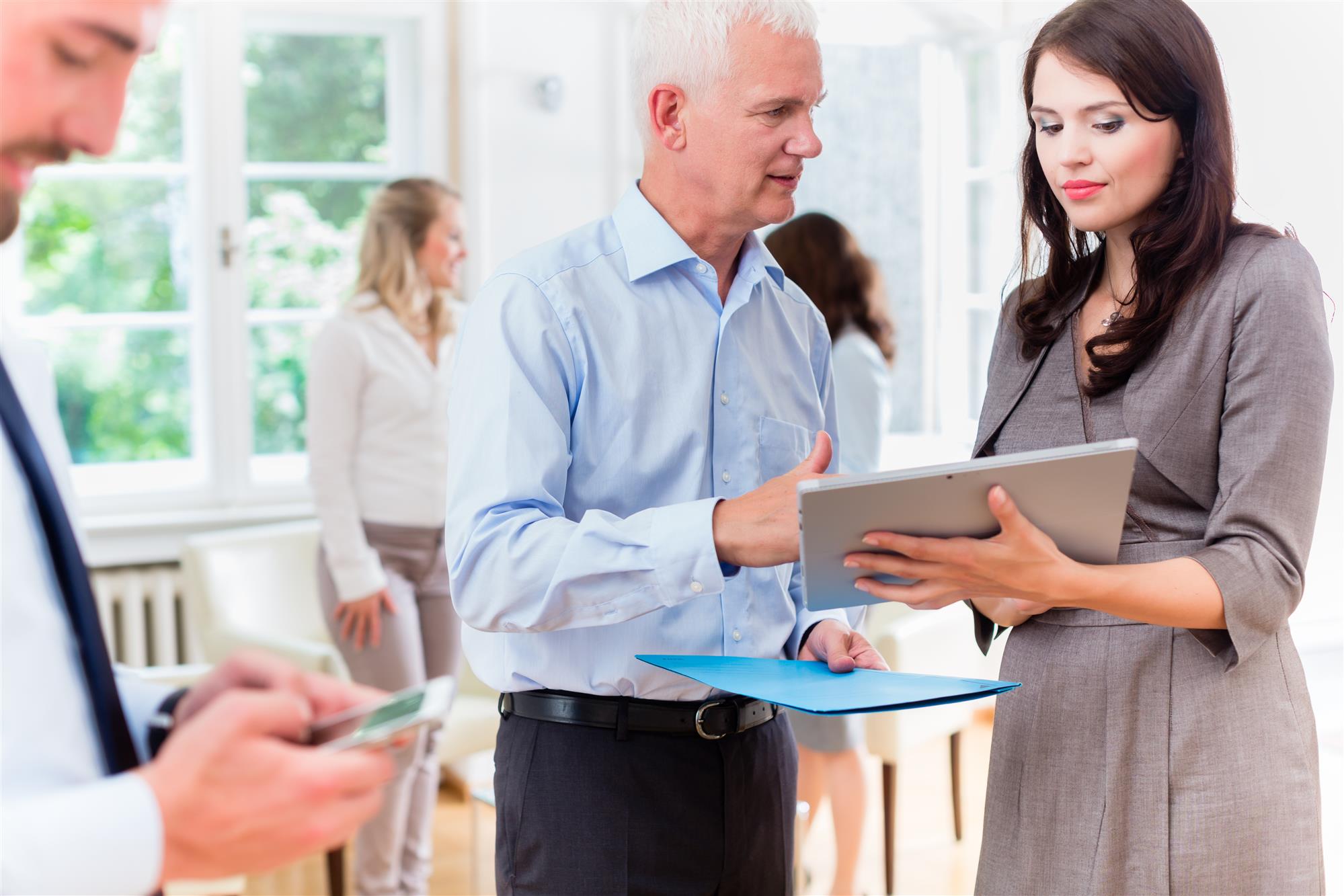 #2: Make Telecommuting an Option
Some employers are reluctant to offer employees the option of telecommuting out of concerns that remote employees will be less productive. It's a valid concern, and one that can be easily addressed with a slew of web tools, from Hivedesk, to Google Hangouts, to WORKetc.
Employees whose jobs require minimal supervision or in-person interaction can work from home with just a few pieces of equipment, especially with the cloud, which has revolutionized work in its own right. Business owners just need to ensure they provide a strong enough internet connection to support cloud computing. Office space is expensive—allowing some employees to work remotely could potentially save a business owner thousands of dollars every month.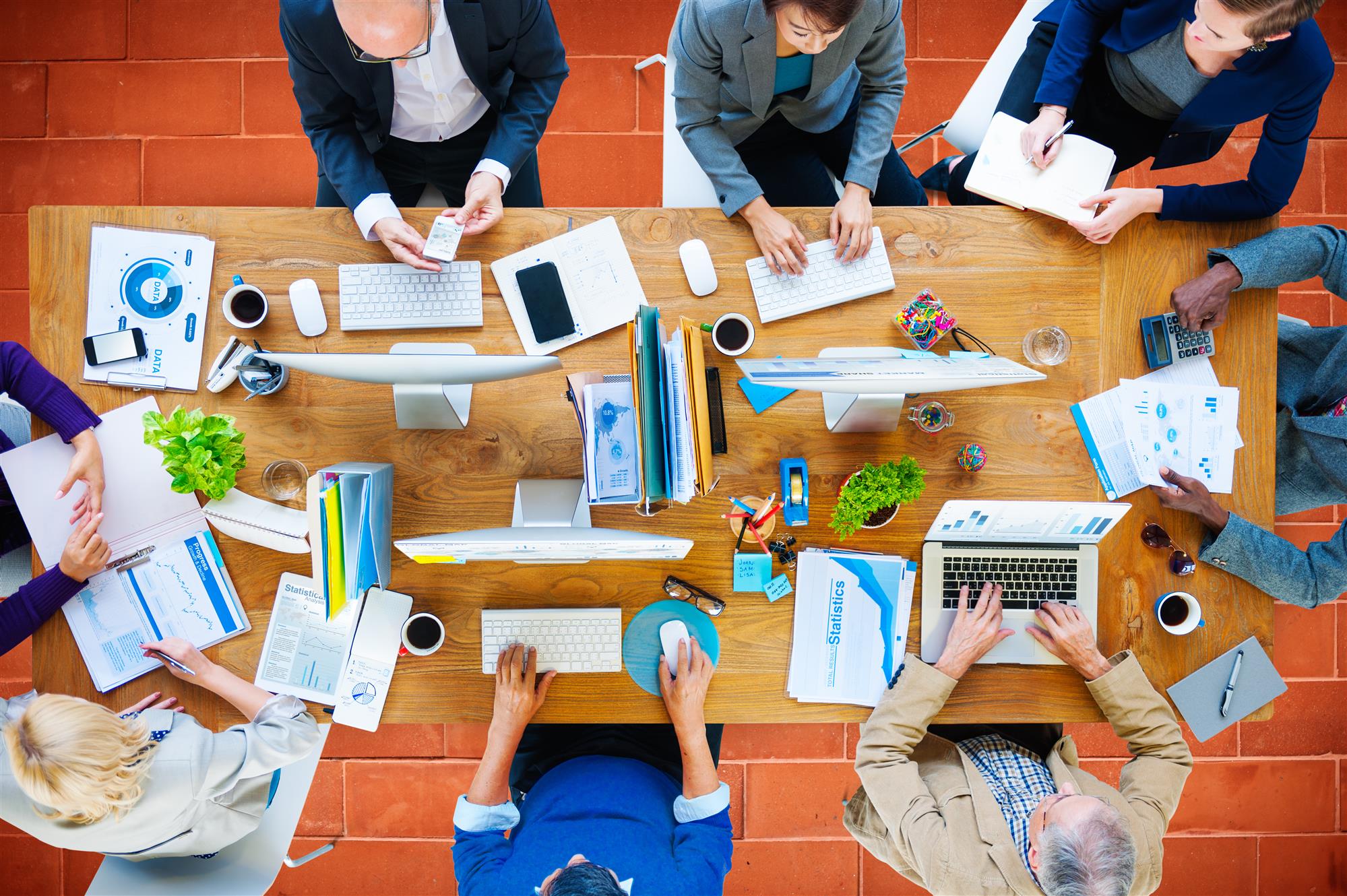 #1: Make Use of Common Areas
Most people like to have a foundational place to call their own at work, whether it's an office, a cubicle, or a workstation—a space they can personalize and a place to store their belongings It's also nice to be able to move around once in a while and get a different perspective. A different environment can be quite energizing.
By allowing employees to use common areas like breakrooms, hallways, and meeting rooms as extended workspaces, you might very well see a boost in productivity and creativity among your employees.
Shelving and Storage Solutions for Every Space
We hope you've found these tips for making the most out of your office space useful, whether you're the business owner of a two-person operation or you have a workforce 150 strong. Aurora Small Office provides office shelving units, storage solutions, and more for businesses large and small. Our mission is to help you make your space more comfortable and functional.